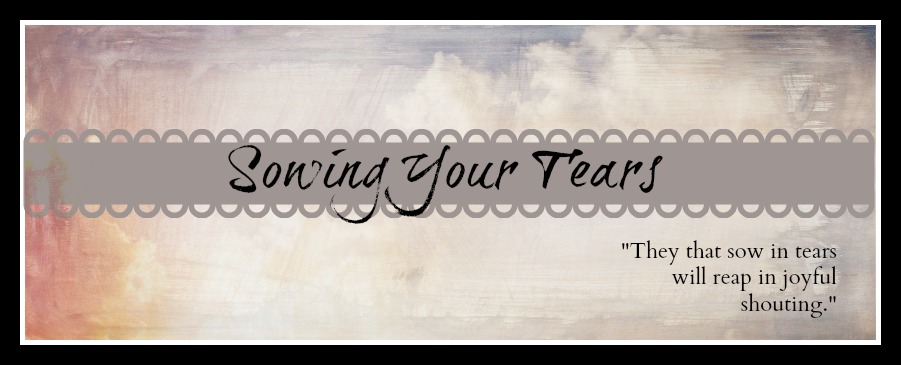 Something I would like anyone who has experienced loss to know:  it's okay to grieve.  It is okay to cry.  It's okay to get angry.  It's okay to mourn both the loss of the specific child and the dream of what could be.  After all, this isn't the way things are supposed to be.  It isn't fair.  And, it is terribly sad.
Also, the way you grieve may not look like the way others grieve.  It may not even be the way that you have grieved before.  And, that's okay too!  I have had more than a handful of miscarriages and they were all different.  Sometimes the grief went deeper than other times.  Sometimes it took longer to get past the sadness.  Sometimes things that brought me peace in one moment of loss brought no peace at other times of loss.  You really can't predict how you will feel in times of loss.  You don't really know how the cycle of grief will play out.
However, there is one thing that I learned I can do in every circumstance of grief.  It is to "sow" my tears.  Let me explain.  After one miscarriage I had, I was feeling a little bit like I could drown in my sorrow. However, I had other children and I didn't want them to have to process my intense grief, so I would go into our walk-in closet and cry.  Then I would compose myself as best I could and go and be with the kids, until I'd feel myself start to lose it again, so I'd excuse myself to go back to the closet (or sometimes I would lock myself away in the bathroom) and so on and so forth.
During one of those moments of unchecked grief, something changed in my heart.  I knew that it was okay for me to cry, to grieve.  But, I also knew that as I did, I was supposed to be "sowing" my tears.  What I mean by this is that my tears were not to be in vain.  My grief wasn't an empty grief with no hope.  While I had no answers for why things were the way they were, I did trust that the Lord was there, that in the end there would be victory and somehow something good would come.  And that is what it means to sow your tears.
When you are sowing seed, you are doing so with a direct purpose.  You are expecting a harvest from it.  Sowing your tears is like that.  It means that while you are grieving, you are choosing to trust the Lord.  You believe–somewhere within you, much deeper than your emotional state–that He is good, that He is with you.  You continue to live your life with the Hope of His life.  You choose light in moments of darkness.  While you cry, you declare your trust in Him.  Suddenly, your tears aren't simply tears.  They are precious seeds in the Kingdom.  You don't know what the harvest will be or when it will come.  But, you know that it will come.  This process doesn't make the grief go, but it allows peace to come.  It allows the grief to be transformed into a kind of tragically beautiful thing that has eternal value.  It allows hope to be planted deep within you.
I am happy to say, there is a passage in the Bible that talks about this.  Psalm 126 that says that "Those who sow in tears shall reap in joyful shouting".  I will be honest, while I have reaped other good things from my sown tears, I haven't really made it to the joyful shouting yet.  But, I have no doubt that it is coming.  And what a day that will be!