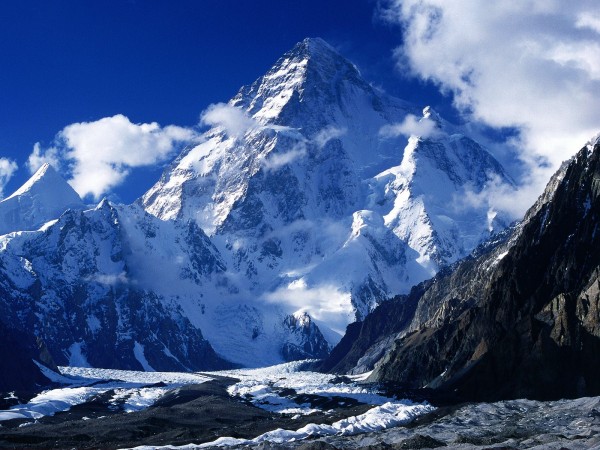 I love sports documentaries, particularly extreme sports.  Lately I've become a fascinated with accounts about people climbing the mountain K2.  K2 is the second highest mountain peak on earth.  For various reasons, it is extremely difficult to climb.  One in four people who attempt to do so don't make it.  And by "don't make it" I don't mean just that they aren't successful.  I mean that the attempt costs them their lives.  They die on the mountain.  Today I watched part of the documentary "The Summit".  It's about 11 people that died within 48 hours on K2 in August 2008.
Obviously, its a sad movie.  (As, in case it isn't obvious, so many extreme sports documentaries are.)  As I was choking back the tears, I wondered for the hundredth time, why I do this to myself.  What compels me to watch these types of things?
And, here's the conclusion that I've come to.  I am inspired by the people in them.  Drawn to them.  Stirred inside.  I don't want to follow in any of their exact footsteps.  (And, I ask Jamey, pretty much every time I watch one of these, never to do said sport or expedition, etc.)  BUT,  these documentaries are filled with people that have found something to live for.  People that are compelled to follow their passion no matter the cost.
They aren't filled with fearless people.  They aren't extraordinary because of their outside circumstances. Instead they are "regular", every day people who have believed in themselves and their dreams enough to push past their fear, the things that hinder and go all out.
I don't want to live my life for a mountain.  But, I do want to live a life that requires me to have to push past my fear.  I want to live my life in such a way that I look back without regret, knowing that I pursued, with passion, those things worth living for.  I want to live my life in such a way that I have things in it I find worthy even of my death.
I'll be honest.  I'm not sure if I'm there yet.  I'd like to think I would die for my Savior, for my family, even for another I don't know, if it meant saving them.  I think I could.  I hope I would.  But, even more, I hope that I am spending my life on those same things.  Pursuing the passions and dreams of my heart with the same kind of devotion, passion, and life that I see reflected in the lives of those I watch.